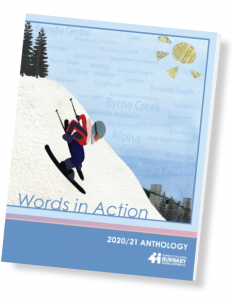 Hot off the press, the 2020-21 Words anthology, Words in Action, is in the hands of 100 published student authors and their families. You will also find it in libraries in the City of Burnaby and schools, and you can read it here.
Unique to Burnaby Schools, the Words Writing Project is a literacy tradition that began in 1985. It celebrates the best in student writing and provides career exploration by inviting students district-wide, from Kindergarten to Grade 12, to submit an original story or poem for a chance to get published.
You'll find the most recent published anthologies below. Please sit back, and enjoy the words of our young authors.
Words in Action: 2020/21 Anthology
Waves of Words: 2019/20 Anthology 
Brave New Words: 2018/19 Anthology 
The Freedom Of Words: 2017/18 Anthology 
Word Play: 2016/17 Anthology 
A Way With Words: 2015/16 Anthology 
Words Move Us: 2014/15 Anthology 
A Hand Full of Words: 2013/14 Anthology
Check back in the fall to learn how to submit your writing to the 2021-22 Words anthology here.
Thank you to the Burnaby Now and Royal Printers for their ongoing support of the Words Writing Project. See the ad below in the July 15 edition of the Burnaby Now.
---
Updated July 2021