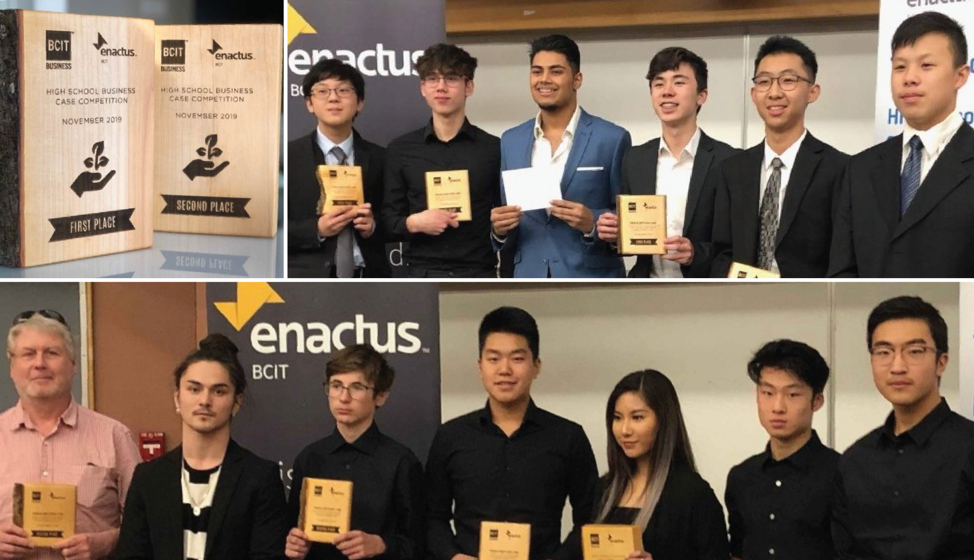 Top Photo: First place team
L to R, Daniel Wang, Andy Shaw, BCIT mentor, Alex Logan, William Li, and James Zhang.
Bottom Photo: Second place team
L to R, Burnaby North Marketing teacher Mr. Jeff Johnson, BCIT mentor, Leo Polanski, Eric Gao, Sunnie Sun, Evan Chen, and Zach Liu.
Burnaby North business students earned both first and second place at the "Triple Bottom Line High Schools Business Case Competition" at BCIT. Students from Burnaby Central came in third. Put on annually in collaboration with the District, it's designed to enable Burnaby Schools students to hone their business and sustainability leadership skills.
Students receive three weekly 2-hour mentorship sessions with BCIT Enactus and School of Business students. They learn about the role of social enterprise in our community and the importance of using sustainable marketing practices in business. The skills and knowledge acquired during this intensive mentorship are then applied in the fourth week to prepare for the final case championship.
The event is also an opportunity for students to spend time in the classroom at a post-secondary institution. Students from the winning team each received a $5,000 award should they choose to pursue their post-secondary studies in a full-time BCIT School of Business program of their choice. Second place students received $2,500, and those in third place were awarded $1,500 toward further education at BCIT.
Vincent Chan, Burnaby North Department Head, Applied Design, Skills, and Technologies:

This is a terrific partnership. It gives our students the opportunity to compete as these competitions are very common in post-secondary business programs."
This year, five Burnaby Schools participated – North, South, Central, Mountain, and Moscrop ­– each with two teams.
—
Posted November 2019