Teachers Inspiring Excellence in Burnaby Schools
Education is not the filling of a pail,
but the lighting of a fire.

~ William Butler Yeats

Shayna Virginillo, Cariboo Hill Grad 2016
Shayna Virginillo had always dreamed of becoming a writer. Theatre didn't arrive on her radar until high school when she entered Mr Found's drama studio. It changed her life. Literally.
"I was the student who had friends in every group – but didn't quite fit comfortably anywhere. It was theatre that provided me with a true sense of belonging."
Shayna particularly enjoyed the plays that Mr Found selected – plays rooted in social change that challenged his students' beliefs. She thrived under his direction, and in grade 12, he coached her in a one actor play. This experience empowered her to become involved with Vancouver's Slam Poetry community. Shayna earned a spot on the Youth Slam Poetry Team, where she delivered poetry workshops in schools and performed at events. For her dedication to theatre throughout high school, she received a Michael J Fox Scholarship for the Performing Arts.
This year, Shayna graduated from the National Theatre School of Canada where she received the prestigious Tullio Cedraschi Award for "commitment to empathy, dignity, kindness and hard work as core to artistic excellence." She continues to write and recently moved to Toronto, where she's establishing her roots through auditioning and meeting other artists.
Trevor Found, Drama Teacher at Cariboo Hill
Trevor Found began experiencing the benefits of drama at an early age as a child actor, eventually taking on coaching jobs in his young adult years. After 25 years dedicated to the business of performing arts, he began his educational career in 2007 at Cariboo Hill Secondary teaching drama and English. During this time, he's been instrumental in helping hundreds of students find their passion and "directing" them in their post-secondary options. They, in turn, inspired him to pursue his Master's Degree in Education with a focus on theatre and creativity.
Mr Found believes in providing learning environments that foster socially conscious, critically creative students who are ready for the future, while encouraging them to be themselves. Students aspire to join his senior drama class, The Cariboo Hill Theatre Company. They purposely tackle non-mainstream plays such as The Laramie Project and Rhinoceros – confronting social justice and social norms. Mr Found feels strongly that these productions provide unique learning opportunities that lead to unpredictable outcomes – and this is where the deepest learning takes place.
The theatre space is open to all of his students at anytime. Mr Found recognizes that this creates a sense of belonging, purpose and trust. This feeling of a community is integral to enhancing artistic performance and self-expression – and students find success almost effortlessly.
"Theatre is a place of great transformative power. It offers a way for young people to investigate
and understand their own identity and to make sense of the world and their place in it."
As a glimpse of last year's graduates illustrates, many students pursue passions in the theatre and beyond. Tess Abad plans to become a Costume Designer, and is attending a design school in California; twin brothers Jasper and Marcus Valliant will be attending Langara College for Film Direction and Theatre Production respectively; Donovan Schwalback will be pursuing a Broadcasting career through BCIT; and Arthi Chandra, Cariboo Hill's 2016 Valedictorian and an outstanding actress, is in SFU's Theatre Program.
Mr Found inspires his students to believe in themselves and take risks. The world is their stage – and the sky, their limit.
Nikola Surjanovic, 

Burnaby Central Grad 2016
"Ms Nicolidakis' contagious passion for mathematics, her consideration for her students, and her continued endeavours towards becoming an even better educator are what make her an exemplary teacher. She inspired me with a passionate love for mathematics and learning which, in turn, motivated me to pursue post-secondary opportunities in Mathematics and Statistics at SFU."
These were the words written by Burnaby Central graduate Nikola Surjanovic in his nomination of Ms Nicolidakis for the SFU McEwen Family Teacher Award. It was a chance for him to reflect on his life journey so far, and show his appreciation by paying it forward. Ms Nicolidakis was the recipient of this award. It recognizes public high school teachers who have changed the lives of young people through their dedication to delivering exemplary education in Math and Sciences.
Nikola is also an award recipient and received a $24,000 Gordon M. Shrum Entrance Scholarship. This fall, he began his second year in SFU's Statistics Program. He's also an executive member of the Statistics and Actuarial Science Student Association, that serves all students by creating a friendly and positive community by providing study groups, and networking among faculty –
a mandate that clearly indicates he is likely to follow in Ms Nicolidakis' footsteps as his career aspiration is to become a Math Professor.  
As for advice for future scholarship applicants, Nikola stresses the importance of focusing on your interests.
"That's important because everyone has something that they're really good at, it's just being able to focus on that and growing it."
* Amos Lee, Advanced Learning Department Head at Burnaby South also received a 2016 UBC McEwen Family Teacher Award
Maria Nicolidakis, Math Teacher at Burnaby Central 2016
Maria Nicolidakis has been helping Burnaby Central students formulate answers to the Pythagorean Theorem since 1993.
"My mother is from the island of Samos, home of Pythagoras, so I'm convinced it's in my blood. When I was 4 years old, my sisters received stuffed animals for Christmas – me, an abacus. I was always able to see patterns quickly and expand on these ideas."
Ms Nicolidakis fondly recalls and gives credit to her formative school years for fueling the math spark within. Her grade 4 teacher ran a program that provided opportunities to solve problems from diverse perspectives. Her high school Math teacher, Mr Sarna, was humorous, yet precise, and loved to challenge the class.
Years later, as a teacher on call, she met teachers who mentored her on the most innovative ways to engage students and instill confidence in their abilities. She claims there is no secret to her success. While it is her role to teach the steps to find the answer – this problem solving process is always dynamic, and changes depending on the student.
Her latest teaching technique comes from SFU's Dr. P. Liljedahl's toolbox, "The Thinking Classroom." Students are at white boards set up around the room, working together and being actively involved in finding the answers. No sitting around passively copying notes in Ms Nicolidakis' math class!
"It's that 'Aha!' moment that inspires me, when students understand a concept, especially those students who have always struggled with math. Their success motivates me, and they know I'm there to help them succeed."
Just as Ms Nicolidakis was inspired during her educational journey by great teachers, she has in turn inspired so many Burnaby Central students. She was honoured to learn that four former students, all presently attending SFU – Carly Yu (Kinesiology), Samantha Zimmerman (Operations Research), Luke Gair (Computer Engineering) and Nikola Surjanovic (Statistics) – took the time to nominate her for the SFU McEwen Family Teacher Award. As the successful recipient, she received $5,000 to be spent on classroom enrichment activities.
KEVLAR DUPUIS, 

Burnaby North Grad 2016
Kevlar Dupuis came to his trade quite naturally. Growing up on Gambier Island, he was surrounded by family who were always in the wood shop. So when he was approaching high school, and his mother learned of the ACE-IT Carpentry Program offered through Burnaby School District, he jumped on the idea.
After moving to the Mainland for grade 9, Kevlar attended Burnaby North Secondary. In grade 12, he entered the ACE-IT Carpentry Program at Cariboo Hill Secondary to pursue his passion – the icing on the cake of his high school career.
Kevlar was quick to connect with Instructor Greg Bernard who also got into the trade through family role models at a young age. Mr Bernard was a great teacher, and Kevlar took to the course and all it offered like a duck to water. He became more skilled at learning the tools of the trade, and while not a fan of the theory, got that behind him too.
When Kevlar graduated, he had a job waiting for him at Henderson Construction. The company has multiple projects in Squamish. His thirst for knowledge continues and he's worked with a wide range of tradespeople where he's learned electrical, drywalling, and steel stud framing. He's looking forward to an upcoming framing project and the completion of his 900 hours that will qualify him for a scholarship.
But it's not all been work, for when the task at hand is done, adventures await on the mountain bike trails of Squamish and Whistler.
Long term plans? "I've actually been working quite close to some movie sets in Squamish. I'd love to get involved with building movie sets someday."
GREG BERNARD, Carpentry 
Teacher at Cariboo Hill
Greg Bernard began his career as a Red Seal carpenter in the Construction Industry. It had always been his passion and he has early childhood memories of creating things  with a hammer and scraps of wood – and being mentored by his grandfather and father.
Fast forward 29 years, and Mr Bernard has been a teacher in the Burnaby School District since 1997. A "Greg of all trades," he's taught woodworking, carpentry, drafting, metalwork, and electronics. He was also instrumental in developing the Engineering Summit Program, which integrates math, science and technology education. He instructs its Engineering Projects course where students
get to build and bring their "work sheets" to life.
Many students who sign up for Mr Bernard's classes think it's an easy way to an "A." They don't understand the complexities of the courses. His goal then is to foster the curiosity that brought them there. This approach aligns with the new curriculum, opening students' minds through critical thinking, communication and collaboration – the skills that ultimately open doors to new interests.
Mr Bernard also realizes that parents, and students alike, assume that the only reason to take a technology education course is to begin a career in trades. For some, this is the case and they become carpenters, cabinet makers, machinists, welders, plumbers, bike mechanics and contractors – right out of high school. He knows firsthand that his classes have also been the catalyst for his students to pursue careers in teaching, engineering, architecture, fashion/interior design, and animation/video game design.
"I regularly have former students come in to visit because I was important in their life. These connections give my work real meaning."

Mr Bernard sees the pressure that kids are under to choose a career path in high school. A strong believer that school should be more than training to get a job, he strives to help his students make the connection between what they do in class and how that may relate to the bigger picture.
"As a person who chose my current career well after graduation, I think it's important to remember that our paths are not set in high school – careers can change direction anytime – and that's okay."
Fall 2015
Cisco Kid to App Developer
Adam Thompson was all set to start a Cabinet Making Program in grade 11. In a twist of fate, his program advisor recommended a new Computer Networking Technician Program – a Cisco Academy, at Burnaby South Secondary as an option. An avid "gamer" with a keen interest in computers, Adam was intrigued. He shifted gears, and a month later his career "technically" began.
As the year progressed, Adam's passion for computers deepened under the guidance of his teacher, Mr Wong. As a final project, students were invited to compete in the Cisco Netriders' Challenge. In teams of two, using simulation software, they had to set up a virtual hospital computer network in just 1.5 hours. Adam and his partner placed 2nd in North America!
The program opened up multiple work opportunities for Adam. With A+ certification, he found work at London Drugs as a computer specialist. In the summer, he worked in the IT division at Wasserman & Partners.
When the students who had completed the Cisco Academy returned for their final school year, Principal Li offered them a new challenge option. Partnering with a local Apple-employed app developer, they created an Independent Directed Studies course where students learned to design and code iPhone apps.
The students initially watched lectures from Stanford's iOS programming class, a second year university course. Then Principal Li introduced a competition to design a mobile app of the school's website. The competition ultimately narrowed to just two students. While both projects had merit, Adam was the victor.
Armed with his prize, a new iPad 2, Adam continued learning and tinkering with iPhone and iPad apps. He began writing an iOS game, and by year's end had a working game prototype. Half a year later, while studying Computer Science at SFU, he released the game Terror Rising on iTunes. Charged with an entrepreneurial spirit, he pursued part-time app work, earning enough to pay for University plus a backpacking trip around Europe.
In the summer of 2014, he competed for a "sweet" senior developer position at Witkit.com with flexible hours, an ocean view, and great pay. Job applicants were asked to estimate how long it would take to build a fictional app. Adam's low estimate, measured in hours, not days, astounded them – especially when he actually delivered! He was hired on the spot.
"The jumpstart I received in high school has been critical to the success I enjoy today. I encourage current students to seek these opportunities and pursue their passions."
Fast forward a year, Adam now attends Zhejiang University in China. He speaks Mandarin, and has already begun to envision the company he'll start up in the near future.
All the World's Her Stage
Did Carlena discover dance or did it discover her? That is the question. Carlena Britch had a creative streak from a very young age. At Cameron Elementary, she thrived on anything 'artsy' – art classes, choir, drama and especially dance. Her dance journey began in grade 4, when she was introduced to hip hop in gym class. She was    so enthralled she created an after-school program.
By the time she reached Burnaby Mountain Secondary, there was no stopping Carlena, and dance teachers Ms Stansberry and Ms Marello opened up her world to what was possible. Before school, during lunch, breaks, and after school, you'd find her in the studio. While she continued to teach dance to elementary students, she also headed up the school's award-winning Dance Team. The school was so proud of their Dance Team, they raised enough funds to send them to a pivotal dance competition.
Carlena graduated with Honours in 2008 and was awarded the Michael J Fox Scholarship for Performing Arts. She also received a cash scholarship (Deeley Harley-Davidson) which paid for a 3 month training workshop in Los Angeles, her "dream city."
Today, Carlena is living her dream in LA. She was the 7th top female dancer on So You Think You Can Dance Canada, and has shared the stage with numerous pop stars of today's generation, including Justin Bieber. She's also appeared in many TV shows and movies, a career she is pursuing further.
Carlena's pathway to fame wasn't all easy. Dancing took her focus away from a troubled childhood in foster care and was an outlet to positively channel her energy. It also surrounded her with the support of people at school and in the community who believed in her and shared her dream.
"Dance was the key guidance in my life. It taught me focus, determination, perseverance and strength. I wouldn't be doing as well as I am if I hadn't found it."
Among a long list of future dreams that include becoming an author, director and winning an Oscar, she remembers her roots, "I want to inspire young girls who've experienced abuse and neglect to realize that they can do anything they want – it all starts by believing in yourself."
A Fitting Challenge
Isabela Moise began her educational journey at école Sperling  Elementary in the French Immersion Program. When University Highlands Elementary opened in 2010, she transferred there to be in the same school as her younger brother Nicki. She enjoyed both schools, but in grade 6 the fit just wasn't quite right.
Isabela was "a self-professed nerd and used a lot of big words."
Her prose had been selected for publication in the District's 2014 WORDS Anthology and she was a year ahead in Math.
It was Isabela's teacher, Mr Heard, who recommended the Multi-Age Cluster Class at Capitol Hill Elementary as a program option. It would provide her with a deeper level of knowledge and an environment better suited to her advanced learning needs. The school also suggested that her brother submit an application for the grade 4/5 MACC class. And so they became the first set of MACC siblings.
Although it meant changing schools, Isabela was excited about this learning opportunity. From day one, she felt right at home in her grade 6/7 class, her classmates were that familiar to her. "The big words were suddenly normal," and she loved the deep discussions about social issues, complete with debates which created friendly competition amongst her peers. Isabela had an exceptional year of learning, and took on leadership roles in sports, worked in the library and raised funds for multiple causes. Her confidence soared.
"There's an energy that happens when you put like-minded kids in the same room.
They feed off of each other, their thoughts, comments and actions – that's where the real learning begins."
~ Ms. Papapanagiotou, Isabela's MACC teacher
When she completed grade 7, the District had just launched a secondary option for advanced learners. Isabela now attends the Mini-School for Highly Able Learners at Alpha Secondary along with many of her MACC classmates. They've already selected a name for their "Mini" by hosting a debate where Isabela defended the name BETA: Bringing Exceptional Thoughts Alive. Initially the least favoured option, they were all amazed to see it rise in popularity during the debating process. It made the name that much more fitting.
The BETA students are thriving and looking forward to the year ahead. And the District's looking forward to learning where the future will take them.
Ace of Auto Collision Repair
Jason Sherle didn't have to look far when considering his career options. After his older brother Matthew graduated from the
ACE-IT Auto Service Technician Program, the boys spent hours together in the family garage working on vehicles, including a truck Jason bought when he was just 15. They spoke the same language and Jason grew to know that someday he'd be working with cars for a living.
Jason completed his academic courses in grade 11, to clear the path to take the ACE-IT Auto Collision Repair Technician Program the following year. It still made for an intense schedule. He took the ACE-IT program at Vancouver Community College four days a week. Every Friday, he returned to his high school for a Peer Mentoring course where he worked with Tech Ed students, and he took English 12 online. As Jason was also an integral part of the senior boys' soccer team, his teammates and coach appreciated that he somehow managed to fit that in too.
"I was ready to make the commitment and step out into the real world a year earlier than my friends. The reward wouldn't be just a career, but a career I loved."  
The juggling and sacrifices were well worth it. Jason shone in his chosen profession. He was one of only two students selected to compete at Skills BC, which showcases the top secondary and post-secondary students in a variety of vocations. Jason won gold in Auto Collison Repair and qualified for the National Skills Competition in Saskatoon. There, he reached the podium once again and received a bronze medal. He was also the recipient of VCC's Faculty Award and is on track to receive a Secondary School Apprenticeship Award.
Jason became an apprentice in demand. In June, he began working on high-end vehicles like Lexus and BMW at Richmond Auto Body. He works with another former Burnaby Schools grad, Shawn Atherton, also a Skills BC gold winner.
Jason is dedicated and passionate about his career. He's almost completed the required working hours toward his Level 1 certificate and will begin his Level 2 training at VCC in February. He's looking forward to the day when he'll be a fully licensed journeyman – a goal he's clearly steering toward at top speed.
Future of Green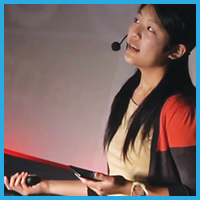 Jacqueline Shen has always been a driving force. As a child, her grandparents instilled in her a philosophy to work hard for what she wanted. She was a keen student, took Advanced Placement courses and participated in math competitions. In her final year of high school, she won a Municipal Environmental Award and a National Earth Day Hometown Hero Award for empowering youth to work toward a sustainable future.
It was the first Burnaby Youth Sustainability Network (BYSN) meeting in 2010 that inspired her. Secondary students from across the District came together to encourage students to refill their own water bottles in an effort to keep plastic bottles out of the landfill. She was inspired by the energy of the group, their provocative arguments, and their dedication. After that, she was unstoppable – on a mission to make Burnaby Schools, and schools throughout Metro Vancouver more sustainable.
When she took over the reins as BYSN chair in 2012, it went from grassroots to big business. Today, there are water bottle refill stations in all secondary schools and some elementary schools too. They've also created Generation Green (an elementary mentorship program), organized environmental clean ups, installed school gardens, implemented food scraps recycling, and won several City of Burnaby environmental awards. BYSN also organizes a bi-annual "Do it Green" Sustainability Conference where students, staff and the community get together to think outside the box for greener solutions.
"Energy and creativity spouts from everyone at the "Do It Green" conferences. I am confident that Burnaby students have the power to change the world."
Jacqueline believes that all problems have solutions, it's just a matter of finding them. She's hosted numerous workshops and presentations including a 2013 TedX talk, "Throwing Away the Concept of Garbage," at the Power In Me Conference. (TEDxKids@BC connects remarkable young people to each other, to share bold ideas and spark discussion and action.)
Today Jacqueline is a second year scholarship student at the Massachusetts Institute of Technology majoring in biological engineering. Through her studies and activism with Fossil Free MIT, she is learning first-hand about the issues affecting our environment so that she can continue to be part of the solution. Under Jacqueline's watch – with her contagious enthusiasm to spearhead youth into action – the world is in good hands.
Winter 2015
Burnaby's Public Schools ~ The Right Choice
The Mohammed family is all about informed decisions, particularly when it comes to the education of their children. They are experienced veterans now, having gone from a public school to the independent system and back again – a choice they now know was the best one for their daughter Lila (grade 12) and son Solly (grade 8) who are both thriving at Burnaby Mountain Secondary.
Their decision to try independent schools seemed right for them at the time, the schools were faith-based and mirrored their value system. For their elementary aged son, it worked. But to their surprise, for their daughter who was in secondary school, the foundation for learning didn't meet their expectations. They recognize that foundations in certain subjects – especially in grades 11 and 12 – is imperative to the transition from secondary to post-secondary. The family also values the arts, and artistic opportunities were limited.
As their son finished elementary school, the Mohammed family reviewed their options. They decided that the best choice for their children was to return to a public school for both the artistic and academic opportunities it offered. Just four months in, they know it was the right choice.
For their children, the first day at their new high school was a big one. They immediately felt accepted and safe in a school that embraces its diversity, thus creating an inclusive atmosphere. Parents Emily and Reza were delighted to discover that the public school promoted excellent values and the social climate amongst peer groups was healthy.
Lila jumped right into theatre, thrilled that the production was A Midsummer Night's Dream. Academically, her marks reflect the expertise of the teachers and administrative team – she's already on the Honour Roll, with Distinction. And as awkward as the transition to grade 8 can be, Solly is also thriving. Many classmates from his independent school are at Mountain, so he already had a friend base. He's particularly excited about the opportunity to expand his proficiency playing the trumpet under the instruction of the school's specialized musical directors. Next year he looks forward to auditioning for the jazz band.
"Public schools have so much to offer – diversity, academic excellence, fine arts and a solid learning foundation. We believe in the public education system, and in everyone working together to make it stronger. Ultimately it benefits us all."
From English Language Learner to Ivy League
Agnes Mei was a new immigrant to Canada when she started grade 10 at Burnaby South Secondary. Assessed as an ELL level one learner, she barely understood a word of English. She envied those students who were able to speak in front of the class, and vowed one day to be just like them.
Today, Agnes is a second year Business student at the University of Pennsylvania, on full scholarship. She credits the entire learning experience at Burnaby South for her success, particularly the teachers, administrators and staff who provided her with many opportunities and encouraged each student to maximize their potential. When she chose to take two additional AP courses on top of her regular course load, the teachers were 100% behind her, offering her any extra support she needed to succeed.
"The learning environment was one where every curiosity was satisfied, so that every ambitious dream could come true."
Agnes acknowledges that her friends and classmates also played a key role and were her constant source of energy. When she founded the International Culture Club, they promoted, organized and planned events to ensure that it thrived. Their support made her even more determined to achieve her goal of encouraging interaction between students of all cultures.
In the summer prior to Grade 12, Agnes was accepted to Stanford University's summer quarter to study with its undergraduates and conduct an independent research project with a Stanford professor. This positive university experience confirmed that the learning skills she had acquired at Burnaby South were transferable and gave her the confidence to aim high in her academic pursuits.
Agnes was the school's 2012-13 Governor General Academic Medal recipient. She believes she's where she is today because of the people and the engaging learning environment at South. In turn, the school staff and her friends credit Agnes for enriching their lives with her positive attitude and determination.
An Academic Goal (ie)
Nico Lopes is not your typical teenage boy – he's balancing school and hockey – the latter that has him poised to go places "in the net." His hockey career began at age 3, playing minor hockey at Hollyburn. His educational journey began at age 5 at a French Immersion school in West Vancouver. It was grade 8 when the juggling act began. With hockey practices after school each day and "away games" on school nights, it was difficult to keep up with his studies.
It was important to Nico and his parents that he be successful in both school and hockey. When Burnaby Central Secondary partnered with the Burnaby Winter Club to offer a hockey academy, his family knew that this was an opportunity to make it happen. Nico entered the program in 2013.
"The Hockey Program at Burnaby Central was a game changer for me. I can focus on school and hockey without the conflicts of challenging practice and game times." 
Every other day at 7 am he's got dryland training, a credited course. He trains with his teammates, a Central teacher and a BWC coach. Then he's off to classes and on the ice at 2:15 pm. Nico gets home at a "normal" hour to relax a bit before studying. Hockey games are on the weekend only and there is a chance to build comradery as the team travels together.
Being in a semestered school offers more flexibility in Nico's schedule and allows him to accelerate his courses. This year he'll finish Pre-Calculus 11 and 12. He also appreciates the exceptionally supportive teachers, administrators and his coaches.
Nicos's future is mapped out – Junior A hockey, an NCAA scholarship and then a chance to play pro-hockey. He's on the "powerplay" to make it happen.
Playing Carnegie Hall
Alpha Secondary grade 12 student, Elisa Colasurdo, will be representing her high school internationally – playing oboe and English horn at Carnegie Hall, as part of the 2015 High School Honors Orchestra Performance Series. She was selected for this prestigious opportunity from a submitted audition. As amazing an individual accomplishment as this is, Elisa's family is quick to credit the support, guidance and influence of many of the School District's finest music teachers who have played significant roles throughout her music career.
Elisa's musical career began at Confederation Park Elementary. It was there that she discovered the oboe. She became particularly inspired in grade 6 when the Vancouver Symphony Orchestra's (VSO) Connects Program visited the school.
Her secondary school music teachers were also enthused about supporting Elisa's talent and have also encouraged her to participate in auditions outside of school. She's a member of the Vancouver Youth Symphony Orchestra and has played with the BCMEA Honours Wind Ensemble for two seasons. Elisa started playing the English horn just three years ago, working with a private teacher.
Elisa is interested in a career in medicine or pharmacy, however, this opportunity to play at Carnegie Hall has opened her eyes to further musical pursuits. Whatever is in her future – it's a bright one.
The District is proud of the specialized music teachers who set the stage for the District's award-winning choirs and bands, and for students to go on to pursue individual musical achievements.
Harvard Bound
Scott Xiao's family moved from North Vancouver to Burnaby so that Scott and his sister Grace* could attend Burnaby North Secondary. They were particularly impressed by the school's extensive Advanced Placement Program. They also felt that the large student population would create an environment of varied talents and interests, and that this rich diversity would support success for their children today – and in their post-secondary careers.
Scott makes a point of recognizing how encouraging his teachers are. He's a National AP Scholar, and has taken 13 AP courses. He's also participated in multiple competitions and Olympiad programs, and knows that the direct support from his teachers has buoyed his success.
He represented Canada at the 2014 International Chemistry Olympiad held in Hanoi Vietnam where his team claimed a bronze medal – and won the Canadian Chemistry Contest. Nationally his school team came first in the 2013 Waterloo Cayley Mathematics Contest, and as an individual he came fifth in the University of Toronto's 2014 National Biology Competition.
A full page summary of Scott's impressive academic, leadership, music and athletic accomplishments conveys how genuine and well-rounded he is. The founder of We Youth Help – a volunteer organization that performs at seniors homes and hospitals, he is also a member of the Vancouver Youth Symphony Orchestra. He was recently featured on CBC for his creation of a Mendelssohn video where he simultaneously plays the violin, piano and cello! In his spare time he is a ski instructor, a lifeguard and is a two-time water polo provincial champion.
As a result of the opportunities that Burnaby North has provided for their children, the Xiao's are staunch supporters of the public education system and applaud its merits. The many accomplishments of Scott and Grace are proof that Burnaby's public schools support and inspire excellence in learning.
*Grace Xiao graduated in 2013 and was the Governor General Academic medal recipient. She's now a sophomore at Harvard, and looks forward to her younger brother Scott joining her at the ivy league university this coming fall.
Chef Set for World Travels
Alexandra Hourston is a proud member of the Ojibwa and Cree Nations. She received her Dogwood in June of 2014, and graduated from the ACE-IT Professional Cooks Training Program. She's now completing her apprenticeship at the award-winning Loden Boutique Hotel in downtown Vancouver. She's also eligible for the Secondary School Apprenticeship Scholarship.
Always a self-confessed picky eater, Alexandra explains that it wasn't until she attended a few traditional family gatherings that her idea of food changed. In fact, she was so inspired, that in the summer of grade 10 she took a First Nations cuisine course at VCC. It was taught by native chef Andrew George and his encouragement greatly influenced her decision for the future.
The Professional Cooks Training Program put Alexandra a step ahead in achieving her career goals. 
Her decision to enter this program was also influenced by the fact that she wanted to travel and see the world. She wisely concluded that cooking is a universal skill, and a trade that would always be in demand in any country of the world. With a background in cooking, she would have the freedom to travel.
One of the highlights of the ACE-IT Professional Cooks Training Program is when its students fly to Maui for a two-week work experience at the Fairmont Kea-Lani. It was certainly a great beginning to Alexandra's world travels. Armed with a little French, Italian and Japanese, she'll soon be taking her skills on the road. Alexandra plans to further explore her own culture through food and to then share her culture with the world through the culinary arts and the universal language of food.
Fall 2016 – Inspiring Excellence in Burnaby's Public Schools
Fall 2015 – Inspiring_Excellence in Burnaby's Public Schools
Winter 2015 – Inspiring Excellence in Burnaby's Public Schools
We invite you to share your personal story of success.
Send to inquiries@burnabyschools.ca