The top student from each secondary school in Canada is awarded the Governor General's Academic Medal. We are proud to recognize the outstanding achievements of our 2017/18 medal recipients. These students' impressive accomplishments were shared by their principals at a public meeting of the Burnaby Board of Education, and now, here.
Paniz Najjarrezaparast  Alpha

It is my pleasure to introduce Paniz Najjarrezaparast as the Governor General Award winner for Alpha Secondary School for 2018. Paniz is an exceptional academic student who also possesses outstanding interpersonal skills.
Paniz has an impressive mind that is not only suited toward studying one particular set of subjects. The diversity of her exceptional accomplishments ranges from Math to Social Justice, from French Immersion to Student Government, from Law to Theatre. Paniz's broad academic pursuits included 26 grade 11 & 12 courses which included 3 AP courses. In addition, she graduated with a Dual Dogwood – French Immersion. In total, Paniz graduated with 144 credits – a full 64 more credits than required. Needless to say, Paniz's academic achievement throughout her time at Alpha could only be described as "beyond exceptional." She was on the Principal's List for multiple years as well as graduating with Gold Chord Standing this past June. Throughout this time, Paniz participated in various contests with great success. In the District French speaking competition she won bronze medal as well as a bronze medal in a French poetry reading competition. With these, along with the various scholarships she won it would be easy to mistake Paniz as simply an "academic". Did I forget to mention she placed first in the 2018 Alpha Star Search competition? In speaking with a few teachers about Paniz, they have commented that she is, in fact, one the top all-around students they have ever taught in their teaching career.
Another one of the many wonderful things about Paniz is her ability to work with others, which is a testament to her maturity and social adeptness. While at Alpha, she was involved in Student Council, Grad Council, Offence Club and the United Relief Club to high-lite just a few. She found ways to give back to her fellow students including leading our junior Math students in both preparation for upcoming contests, but also remedial support for students who struggle with Math.
Paniz is an extremely remarkable young woman whose leadership skills, academic prowess and positive outlook earned her various Scholarship offers including a Simon Fraser University Major Entrance Scholarship where she is currently studying Engineering. I would like to take this opportunity to acknowledge and thank her mother and father who are here this evening for entrusting their daughter's academic and personal growth with the Burnaby Board of Education. Specifically, on behalf of the staff at Alpha, thank you for allowing us to be part of Paniz's amazing journey.
~ Principal Tim Wozney
Andy Hwang  Burnaby Central
Kyung Hwan (Andy) Hwang came to Burnaby from Korea in March of his grade 7 year. Since that time, he has worked incredibly hard and, in talking to his teachers, has earned a reputation as a quietly confident and humble student. He has immersed himself in life in Canada and has volunteered at SFU Camps in the summer, has worked with our Hot Potato Initiative where he handed out baked potatoes on the Downtown East Side as well as achieved the level of Flight Corporal in the 754 Phoenix Royal Canadian Air Cadet Squadron. He started the Korean Cultural Club on his own as well as developed and created a business club. He is the recipient of the Edoye Porbeni Service Equals Success Entrance Award Scholarship from SFU as well as earning almost every subject award our school offered: from Mandarin to Maths, Sciences and Business.
As a student, Andy never left anything to chance: he would do every question in the textbook whether assigned or not. His AP Calculus teacher described how he would use the whiteboards to do all of his work and never erased anything. By the end of the class the boards would be covered with the solutions to pretty lengthy problems. The next class, a Math 8 class, would come in and marvel at it all: probably a little terrified but definitely awe-struck that in 5 short years, they too would one day answer such questions.
Andy also quietly worked behind the scenes whenever he thought he could help others. When a young new immigrant came to our school from Korea he noticed that he was having problems adjusting. In Andy's typically helpful way, Andy took him under his wing. He accompanied his fellow student's parents to Parent-Teacher Interviews to help translate and in the end helped ease a whole family into life in Canada. He would simply do these acts of kindness without any pretense or hope for accolades.
Tonight, Andy, we do recognize your achievements in academics as well as many other areas in the school. We are very proud of your accomplishments and wish you all the best as you continue your studies at the Beedie school of Business at SFU and know that you will succeed in your specialization in the accounting and finance field. Congratulations, Andy!
~ Vice-Principal Maria Nicolidakis
Jessica Zhan  Burnaby Mountain
Trustees, senior staff and guests, I appreciate this opportunity to come and speak about Burnaby Mountain's recipient of the Governor General's medal, Jessica Zhan.
Throughout Jessica's years at Burnaby Mountain, she proved to be a conscientious and hardworking student, balancing her heavy academic schedule with leadership activities and giving back to her community.
Jessica successfully completed eight Advanced Placement courses in her Grade 11 & 12 years and was granted an AP scholar award for receiving a score of 3 or higher on three or more AP exams. She was also awarded the top Physics 11, Chemistry 11, and Peer Tutoring 11 awards. Jessica completed her senior years with a 98% average.
Jessica's passion for leadership and building community at Burnaby Mountain Secondary led her to be involved and participate in various clubs, committees, councils, and organizations. She was grad co-chair and on student government. Jessica was the president of the Model UN club and a writer for the PRINTS Newspaper club. She also was a member of various athletic and academic clubs and teams such as the Physics club, the ASL club, the Grade Council, the Badminton team and the Cross-Country team.
Jessica's diverse interest include a love for dance, music, and science. Jessica has been awarded high gold in Hip Hop competitions. She received the grade 10 Royal Conservatory of Music Certificate for both theory and practical in grade 10 piano. Jessica also was granted awards from the University of Waterloo CHEM 13 News Exam Certificate of Distinction for being ranked in the 80th percentile in Canada, as well as 1st in her school. She also received the Thompson Rivers University Chemistry Contest Certificate of Recognition for achieving the highest mark at her school in the Chemistry 12 Honors category of the contest.
Her passion for sciences, particularly physics and chemistry has led her to pursue engineering at the undergraduate level at the University of British Columbia.
~ Principal LeeAnne Kristmanson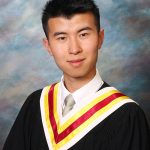 William Shen  Burnaby North
William Shen graduated from Burnaby North Secondary school with an
AP Capstone Diploma, the Department of Science Award, and the Ann Willcocks Leadership Awards. He was known by students and staff as a strong advocate of student voice and scientific engagement through his positions as student government president, District Student Advisory Council representative, Simon Fraser University lab intern, and school newspaper
co-editor-in-chief.
William completed 13 AP courses at Burnaby North as well as 2 concurrent university courses at Simon Fraser University, while also engaging in extensive service activities throughout the community. Most notably, he was a lead volunteer at WE Day Vancouver and a full-time volunteer summer staff at a ranch for children with disabilities and serious illnesses. As a past orchestra section leader and national fine art portraiture champion, William has also maintained an interest for the arts.
In the field of debate and diplomacy, William has placed as a finalist in the BC qualifiers for Team Canada Debate and was also on the secretariat team for Burnaby Model United Nations. Later in his high school career, William focused his outside-of-school efforts on science, a field in which he has two publications. He helped to develop a drug candidate against feline cancers while interning at Cornell University and spent a year investigating Dengue virus transmission in mosquitoes. The latter project resulted in a gold medal at the Canadian national and Greater Vancouver regional science fairs, various awards totaling $3,100 and various scholarships totaling $34,000.
This year, William has begun undergraduate studies at Harvard, where he plans to concentrate in the biological sciences and pursue a secondary field in Global Health & Health Policy. He aspires, as of the time of writing, to become a physician-researcher and eventually a health policy advisor.
William would like to thank his parents and family for all of the love and support that they have given him over the years. He would also like to thank the North teachers, staff, counsellors and admin with whom he regularly interacted with and who endured his frequent questions and requests."
~ Vice-Principal Daryl Goeson
Carol Zhang  Burnaby South
While at Burnaby South, Carol (Gan Lu) Zhang was an academic leader, achieving 100% in 4 of her grade 11 and 12 courses, with an overall average of 96.4%. She was also an academic winner, the recipient of the National
AP Scholar (Canada) and the AP Capstone Diploma Awards, and she led the school in Fermat, Hypatia and Galois Math contests. Carol was also named the winner of Burnaby South's multilingual award.
Yet, Carol didn't just receive outstanding marks and awards, she also generously shared her passion of the sciences as the leader of the Physics and Senior Math Club. There, she organized fun events and activities like contests, helped other students with homework, taught new ideas to others and tried to make an open, inviting and inclusive environment for all the students. She credits the positive role models of previous Math and Science leaders who pushed her in becoming a more studious and hard-working person. If it wasn't for the club, she wouldn't have decided to take as many honours/AP classes or push herself to achieve as much as she did. Even after graduating last year, Carol is still helping out the club, by creating a website and blog for its current members. She also participates in and moderates a chatroom for the club where she is available when others need help with anything. Carol's giving spirit did not end the day she graduated from South, but she continues to impact the next generation of South students by mentoring and being a positive role model.
In addition to her academic pursuits, Carol supported her community as an active volunteer at Free Geek Vancouver. Although some of her volunteer work consisted of dismantling computers and testing computer parts, she knew that she was contributing to something important. Free Geek recycles broken electronics in an ethical manner, sells thrift electronics affordably, and promotes/teaches free and open source software. Carol cares about these things and continues to be an advocate for bringing technology to all.
Carol is grateful for all of the opportunities to take a wide breadth of courses while at Burnaby South. Although she knew she was passionate about Math and Physics, she became aware of her gift for learning languages and renew her interest in the humanities. In her five years in high school, Carol drifted between writing and math quite often, but now she knows that she likes both equally, because of the passion displayed by her teachers and South. Carol was voted "most likely to be the next Google Translate" by her graduating peers!
Carol Zhang's journey in learning is continuing at the University of Waterloo, where she received a $4000 entrance scholarship and is enrolled in their Computer Science Co-op program.
~ Principal Victoria Lee
Amarpreet Powar  Byrne Creek
Amarpreet Powar is an exceptional student who exemplifies all of the qualities of a Governor General Medal recipient. In her years at Byrne Creek, Amarpreet achieved the highest academic standing in each of her high school years, provided countless hours of service to her school community, and embraced the true meaning of school spirit by being involved in all aspects of school life.
Amarpreet was the top academic student from her grade 8 year all the way through to her grade 12 year. In grade 12, Amarpreet achieved an outstanding 99.8% average and she scored a 5 on the AP Calculus AB exam. Amarpreet's impressive academic performance is matched with her tremendously strong work ethic and her strong desire to continue learning.
In addition to being an outstanding academic, Amarpreet was an excellent Byrne Creek citizen. Amarpreet was a school mentor for grade 8 and 9 students, she was the treasurer of Grad Council, and the treasurer of the Byrne Creek Leo club which is a community service club that oversees 150 members, and a member of the Indian Umbrella Club. Amarpreet was also the senior editor of Byrne Creek's yearbook.
Within the community, Amarpreet volunteered many hours. Her work at Burnaby Hospital, Edmonds Community Centre and Hamilton Elementary was greatly valued. Amarpreet's kind nature, natural affinity to team work, and outstanding work ethic, were greatly appreciated by all she worked with.
Amarpreet is currently enrolled at the University of British Columbia in the Engineering Program. Amarpreet would like to apply for placement in the Biomedical Engineering program and upon completion pursue medical school.
~ Principal Effie Aadland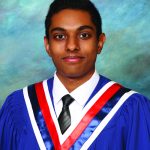 Rickesh Mysuria  Cariboo Hill
Rickesh Mysuria entirely encompasses the qualities of a Governor General Academic Medal recipient. A proud Cariboo Hill Charger, he achieved academic excellence and was dedicated to extracurricular activities, leadership and sense of community mindedness.
In his final three years of high school, Rickesh took a total of 32 full time courses, achieving an average of 95% in his top14 courses, most of which were Advanced Placement and honours courses in STEM and Humanities. He showed up on the Honour Roll every term, which speaks to his exceptional work ethic and dedication to academic success. And in his final year, he topped the Principals List too.
In addition to his academic accomplishments, Rickesh demonstrated strong interpersonal skills as a peer mentor, working with junior students in developing their academic abilities. He also participated in numerous clubs while at Cariboo Hill Secondary including the Student Government, Youth Action Committee, and participated in athletics as a player and assistant coach.
In the community, Rickesh selflessly volunteered with a variety of organizations including the Canucks Autism Network, RECMP National Youth Advisory council, the Hot Potato Initiative and the Indo-Africa Charitable Society. Rickesh was also a founding member of MindBlown, a STEM organization made of teens that works with younger students in elementary schools develop a love of STEM learning. Rickesh has given over 2000 hrs of volunteering.
Rickesh is currently enrolled at Simon Fraser University in Computer Science. He hopes to develop software programs that will help aid people in developing countries have access to cheap technology to help better their lives.
~ Principal Andy Chin
Alice Wang  Moscrop
Board of Trustees, senior management, colleagues, and special guests, to share with you some of the accomplishments of Moscrop's 2018 Governor General Academic Medal Recipient, Alice Wang. Alice's exceptional academic breadth and achievement, along with her modesty, maturity, and social conscience, render her especially deserving of this honour.
Throughout Alice's five years as a student at Moscrop Secondary, she demonstrated an intellectual curiosity and willingness to challenge herself. Whether Sciences, Humanities or Languages, Alice excelled in every academic area. Alice was not content to rest on her laurels the summer after graduation. Rather, she has endeavoured to take an online coding course to brush up her skills before university. Given her aptitude and interest in learning across subject areas, one could imagine it might be difficult for her to select one area of study for University. Alice has chosen to pursue an Engineering degree at UBC this year, close to family, but the possibility of completing a Co-op experience back East, or further, looms in her mind for the future. Despite her post-secondary focus in the faculty of applied sciences, Alice continues her love of literature, and of learning in general. She will undoubtedly have a rich experience in university, and beyond.
Of Alice's many notable accomplishments and experiences within the classroom, she recalls several experiences where she applied her learning beyond the classroom as particularly rewarding. Alice, along with a handful of other senior Burnaby students, helped to spearhead and lead the "Quantum Leaps Burnaby" conference in April of 2017, where girls in grades 10-12 from Burnaby schools had the opportunity to learn from industry leaders and experts in the field of physics and robotics during workshops held at SFU. The result was an environment where enthusiasm for learning was palpable. She is proud of her contribution towards this successful event.
When thinking about memorable moments at Moscrop, Alice cites the support of teachers and students as being integral to her success. She marvelled at the interpersonal skill set of certain students, and their ability to connect with others, regardless of differences in backgrounds and interests, something she hopes to emulate.
We have no doubt she will have much success in her future endeavours Ladies and Gentlemen, I am honoured to recognize with you, École Moscrop Secondary's Governor General's award winner – Alice Wang.
~ Principal Paul Fester